W3C Workshop, Call for Participation
Making the Multilingual Web Work

12 – 13 March 2013, Rome
Important dates
27 Sep.
Call for Participation issued
18 Jan.
Deadline for speaker proposals
4 Feb.
Acceptance notification sent
11 Feb.
Program released
28 Feb.
Sponsorship deadline
8 Mar.
27 Feb.
Registration deadline

12-13 Mar.

Workshop 2013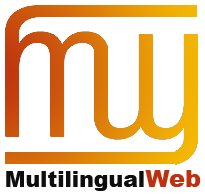 Sponsors:
Project funding
The MultilingualWeb-LT Working Group (project name LT-Web) receives funding by the European Commission through the Seventh Framework Programme (FP7) Grant Agreement No. 287815.
Today, the World Wide Web is fundamental to communication in all walks of life. Although English once dominated the Web, other languages are increasing their presence, with long-term economic and social impacts. If the Web is to deliver its promised benefits and live up to the ideal of a single, world-wide network, it is vitally important to ensure the multilingual success of the World Wide Web.
The MultilingualWeb community develops and promotes best practices and standards related to all aspects of creating, localizing, and deploying the Web across boundaries of language. It aims to raise the visibility of existing best practices and standards for dealing with language on the Internet and on identifying and resolving gaps that keep the Internet from living up to its global potential.
The core vehicle for these actions is a series of events that started in 2010 (run by the initial MultilingualWeb Project and its successor, the MultilingualWeb-LT project). Following five highly successful events in Madrid, Pisa, Limerick, Luxembourg, and Dublin, the sixth workshop will be held in Rome and hosted by the Food and Agriculture Organization of the United Nations (FAO).
On this page: Participate • Goals, scope, audience • Venue and travel
Related links: Registration • Program • About W3C
How to participate
Participation is free. We welcome participation from both speakers and non-speaking attendees.
The total number of participants will be limited, and registrations will be dealt with on a first come, first served basis. Registration may close early if the event is full. W3C membership is not required to participate in this workshop.
Presentations are typically limited to 15 minutes, however we may have a small number of longer talks during the workshop. Talks should describe standards and best practices relevant to the multilingual Web. Talks should ideally describe all of the following with relation to a given topic:
existing best practices and/or standards that are relevant
new standards and best practices that are currently in development
gaps that are not covered by best practices and/or standards
Speakers are asked to focus on describing practical ways of enabling people to meet the challenges of the multilingual Web, rather than to focus on technical details or specific products. Given the diversity of topics at the workshop, speakers should also pitch their talk at a level that will be understood by attendees who are unfamiliar with the topic area.
We are particularly interested in innovative, unusual, or first-time approaches to tackle known bottlenecks or gaps in the creation, localization, and deployment of multilingual Web content and services.
If you have any questions, please contact This email address is being protected from spambots. You need JavaScript enabled to view it. .
Goals, scope, and audience
As with previous MultilingualWeb events, this workshop will bring together speakers and participants with an interest in best practices and standards aimed at helping content creators, localizers, tools developers, and others meet the challenges of the multilingual Web. A unique proposition of the workshop is that it brings together speakers and provides opportunities for networking across a wide range of communities to produce a holistic view of the problems faced in developing and deploying multilingual content and applications on the Web.
In this workshop we wish to consider a wide spectrum of issues, ranging from blogs and social networking sites, to localization of large corporate or organizational enterprises. We are particularly interested in speakers who can identify gaps in standards and best practices related to the mutilingual Web, and propose opportunities for addressing those. Through these workshops, the European Commission wishes to promote widespread adoption of novel, innovative solutions, workflows, and approaches, and stimulate discussion concerning concrete proposals for future EU-funded actions in the field of multilingual technologies.
Topics of interest include, but are not limited to, the following:
Developers: Browser support; Web addresses (IRIs and IDNs); Web protocols (HTTP(s), IRC, REST, etc); Content formats (HTML, CSS, SVG, etc); Scripting languages (JavaScript, PHP, etc); Unicode; Locale data formats (CLDR, etc); Language and locale tags; Data feeds…
Creators: Content management and authoring tools; Browser support; Mobile Web; Voice on the Web; Language selection and navigation; Multilingual web sites; Usability and design for i18n…
Localizers: Localization standards and tools; Optimizing localization processes, workflows and business models; TM and terminology databases; Machine translation; Crowd-sourcing; Cloud based issues; Process enablers…
Users: Social Web (blogs, social media, etc.); Cultural topics; Minority languages; Accessibility…
Machines. Semantic web; RDF and multilingual Linked Open Data / Multilingual data sets; Multilingual web services; Language resources; Text mining; Language technologies; Search engine optimization; Web architecture and processes…
Policy makers. Why the multilingual web matters; Trends; Standards organization players; Political issues…
The workshop is expected to attract a broad set of stakeholders, including managers and practitioners working in the areas of content development, design, localization, and production management; developers of tools such as translation tools, content management systems, editors, etc; researchers and developers working with language technology and resources; browser implementors; standards and industry body representatives; and many more. The interchange of information and perspectives from this diverse group is expected to provide a more thorough picture of the existing landscape for multilingualism on the Web, and was one of the successes of the previous workshops.
Become a sponsor
W3C proposes a dedicated sponsorship program for these workshops to enable organizations to showcase their business and underscore their commitment to the shared goals of the W3C. The sponsorship benefits allow workshop sponsors to reach out to all stakeholders and decision makers worldwide and to be associated with breakthrough innovations that are paving the future of the Web.
Get more information about becoming a workshop sponsor. The deadline for sponsorship submissions for the Rome workshop is February 28, 2013.
Venue, hotels, and other workshop logistics
Important Dates
See the top of this page.
Workshop Venue
The workshop will be held at the headquarters of the Food and Agriculture Organisation of the United Nations (FAO), at the following address:
FAO
Viale delle Terme di Caracalla
00153 Rome, Italy



NOTE: Participants must pre-register to access the building.
Lunch will be a menu in the cafeteria of the FAO venue.
Getting there
How to reach the FAO venue
Public transport:

Option 1: Express Train (14€): Take the LEONARDO EXPRESS train from Fiumicino Airport Station to Termini Station (main Train and Subway station) and then take Metro Line B (direction Laurentina) three stops to Circo Massimo. Total ticket cost 14€
Option 2 (slower and cheaper): Local Train (8€): From the airport train station take a train to "Orte" or "Fara Sabina." Trains run from 05:57am to 23:27. Get off at Ostiense and walk underground to the Piramide metro station (Metro Line B) and ride one stop (direction Rebibbia) to Circo Massimo. The entrance to FAO is on the right as you come up the steps from the subway station.

Taxi: A taxi from Fiumicino airport to FAO and central Rome (anywhere within the Aurelian walls, the central tourist area) should cost exactly €40 (including baggage and up to four passengers). This same rate also applies in the opposite direction.
Public transport (4€ one way, 8€ return): Take the Terravision Shuttle from Ciampino Airport to Roma Termini Railway Station. (This service serves connections for flights on Ryanair, Easy-Jet, Hapag Lloyd Express, Wizz Air, Voli Regionali, My Air, Blue Air, Central Wings, and Flyme). From Termini station take Metro Line B (direction Laurentina) three stops to Circo Massimo. The entrance to FAO is in front of you as you go up the steps from the subway station.
By Taxi: A taxi from Ciampino airport to FAO or central Rome (anywhere within the Aurelian walls, the central tourist area) should cost exactly €30 (this includes baggage and up to four passengers). This also applies in the opposite direction.
Hotel
There is no official hotel for the Workshop. Booking options include the following:
Direct booking with local hotels. We have a list of hotels that offer an discount for individuals attending events at the FAO headquarters.
Other Useful Information
Public Transportation in Rome:

Grandi Stazioni - Roma Termini (official Web site of the main train station in Rome)
Trenitalia (online schedule of all Italian trains)
ATAC (Rome's public transit system, providing official transport maps, timetables, and fares.

Visiting Rome:
For questions about the program or the workshops in general, please contact This email address is being protected from spambots. You need JavaScript enabled to view it. .
For assistance with local workshop logistics or technical issues, please contact This email address is being protected from spambots. You need JavaScript enabled to view it.
Deliverables
Workshop sessions and documents will be in English. After the event presentations, minutes and the workshop report will be made available to the public, linked from the project site.
Chairs
This email address is being protected from spambots. You need JavaScript enabled to view it. (DFKI)
Richard Ishida (W3C)
Local Organizer
This email address is being protected from spambots. You need JavaScript enabled to view it. (FAO)
Program Committee
Sören Auer (University of Leipzig)
Luis Bellido Triana (Universidad Politécnica de Madrid)
Andreas Both (Unister GmbH)
Gerhard Budin (University of Vienna)
Paul Buitelaar (DERI)
Nicoletta Calzolari (CNR)
Manuel Tomas Carrasco-Benitez (Directorate-General for Translation, European Commission)
Claudio Chiavetta (Lionbridge)
Rahzeb Choudhury (TAUS)
Philipp Cimiano (University of Bielefeld)
Thierry Declerck (DFKI/ICLT University of Vienna)
Ernesto William De Luca (University of Applied Sciences Potsdam)
David Filip (University of Limerick)
Jorge Gracia (Technical University of Madrid)
Ivan Herman (W3C)
Daniel Hladky (Ontos/W3C)
Richard Ishida (W3C)
Dominic Jones (Trinity College Dublin)
Jirka Kosek (University of Economics Prague)
Jose E. Labra (University of Oviedo)
Dave Lewis (Trinity College Dublin)
Christian Lieske (SAP)
Qun Liu (Dublin City University)
Arle Lommel (DFKI)
Andrea Marchetti (CNG)
Charles McCathie Nevile (Yandex)
Monica Monachini (CNR)
Roberto Navigli (University of Rome)
Jan Nelson (Microsoft)
Encarna Pastor (Universidad Politécnica de Madrid)
Kimmo Rossi (European Comission)
Felix Sasaki (DFKI/W3C Fellow)
Yves Savourel (ENLASO Corporation)
Reinhard Schäler (University of Limerick)
Jörg Schütz (bioloom group)
Tadej Štajner (JSI)
Dan Tufis (RACAI)
Hans Uszkoreit (DFKI)
Cristina Valdés Rodríguez (University of Oviedo)
Jeroen van Grondelle (Be informed)