W3C Workshop, Call for Participation:
The Multilingual Web – Linked Open Data and MultilingualWeb-LT Requirements

11 - 13 June 2012, Dublin
Important dates
| | |
| --- | --- |
| 2 April | Call for Participation issued |
| New: 9 May | Deadline for speaker proposals about the two topic areas |
| 15 May | Acceptance notification sent |
| 20 May | Program released |
| 25 May | Sponsorship deadline |
| 30 May | Registration deadline |
| 11 - 13 June | Workshop |
| (11 June) | Part 1 "Linked Open Data" |
| (12-13 June) | Part 2 "MultilingualWeb-LT Requirements Gathering" (12-13 June) |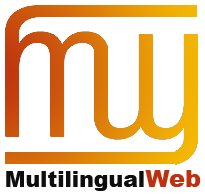 Workshop sponsors

Funding
The workshop is funded by the European Commission through the FP7 Grant Agreement No. 287815 (project name LT-Web).
The purpose of this workshop is two-fold: first, to discuss the intersection between Linked Open Data and Multilingual Technologies (11 June), and second, to discuss Requirements of the W3C MultilingualWeb-LT Working Group (12 - 13 June). We expect that both topics will attract an overlapping set of participants, and we hope to increase the overlap by this workshop.
About the Linked Open Data topic: Research and industrial application of Multilingual Web content (MLW), Linked Open Data (LOD) and Natural Language Processing (NLP) are becoming increasingly intertwined. The goal of the workshop is to bring together stakeholders in the areas of content creation, translation, and provision of content delivery infrastructures, researchers and key industrial contacts.
One of the major issues in the evolution of Linked (Open) Data is its lack of multilinguality. There is a strong separation between, on the one hand, terminology, lexical and language resources, and on the other, the technologies used for Linked Data. This gap makes it difficult to exploit any potential synergy among those approaches. This also makes it difficult to exploit the possibilities offered for Linked Data by Multilingual Web technologies. Removing silos and integrating these technologies is therefore an important goal, and is the main topic of this workshop.
About the MultilingualWeb-LT Requirements Gathering: The MultilingualWeb-LT Working Group is gathering requirements to define meta-data for web content (mainly HTML5) and deep Web content, for example a CMS or XML files from which HTML pages are generated, that facilitates its interaction with multilingual technologies and localization processes. The group has come up with an inital list of requirements, including a list of proposed metadata items. During this workshop, we aim at getting detailed feedback about the requirements and the metadata items.
Different to previous MultilingualWeb workshops, this workshop has two specific foci, and aims at certain groups of participants, with the goal of producing concrete proposals about next steps in the two areas described above . While future MultilingualWeb workshops will continue the format of broad events and will aim again at a larger audience, attendees for this workshop are required to participate actively. The workshop will be hosted by Trinity College Dublin (TCD).
On this page: How to participate • Goals, scope, audience • Venue, hotels, etc.
Related links: Registration • Program • About W3C
How to participate
Participation is free. The number of seats is restricted.
If you are interested in attending, please register as soon as possible.
The total number of participants will be limited, and registrations will be dealt with on a first come, first served basis. Registration may close early if the event is full. W3C membership is not required to participate in this workshop.
Goals, Scope and Audience
Speakers will have a maximum time of 15 minutes for their position statement.
About the Linked Open Data topic: Talks should ideally describe all of the following with relation to your topic:
Availability and re-use of Language resources in the NLP domain.
Current and future content delivery infrastructure for Linked-Multilingual Web Data.
Organisational & technical issues relating to collaboration and access control.
Legal, regulatory and Business concerns in Linking Language Resources.
Crowd-sourced content annotation and adaptation of LOD language resources.
Provenance tracking, history and storage of LOD resources.
Future application domains for Linked-Multilingual Web Data. i.e. e-Gov, Health.
Linked Open Data and it's role in MultilingualWeb-LT metadata, see the related MultilingualWeb-LT requirements document.
About the MultilingualWeb-LT Requirements Gathering: Position Statements should ideally respond to aspects mentioned in the requirements document.
If you have any questions, please contact the co-chairs.
Become a sponsor
W3C proposes a dedicated sponsorship program for these workshops to enable organizations to showcase their business and underscore their commitment to the shared goals of the W3C. The sponsorship benefits allow workshop sponsors to reach out to all stakeholders and decision makers worldwide and to be associated with breakthrough innovations that are paving the future of the Web.
Get more information about becoming a workshop sponsor. The deadline for sponsorship submissions for the Dublin workshop is 25 May 2012.
Venue, hotels, and other workshop logistics
Workshop Venue
29.May 2012: The venue for the workshop has changed and moved across the street from the former venue (Goldsmith Hall) to the Chartered Accountants House (see details below).
The workshop will be held in the Chartered Accountants House, Dublin - http://goo.gl/maps/go2a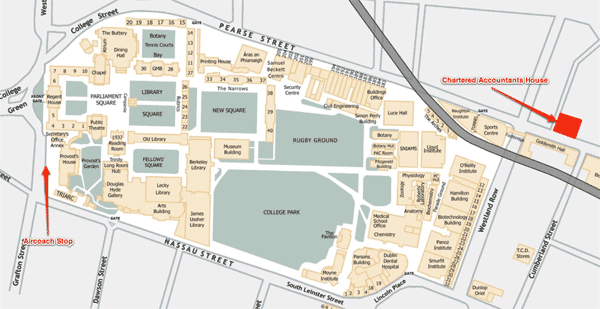 Getting to Dublin, Ireland:
1) Dublin airport (IATA: DUB) is the only airport in Dublin and located 5miles north of the city centre. Direct flights can be found from across Europe, the Middle East and the East Coast of the USA.
2) Dublin is served by two main train stations (Connolly & Heuston) offering connections from across Ireland and from Belfast. Please refer to the Irish Rail website for more details.
Getting to the Chartered Accountants House:
FROM DUBLIN AIRPORT :
You can easily reach the front gates of Trinity College Dublin (approximately a ten minutes' walk from the Chartered Accountants House) from Dublin airport using the Aircoach service. This costs €12 return and takes around 30-60mins.
You can also take a taxi from the airport to the House. The average cost of a taxi is between €25-30 and takes roughly 30 mins.
ACROSS THE CITY:
BY CAR
Hotel Accommodation:
There are no special deals with hotels. Just book with Booking.com or similar. The venue for the meeting is Chartered Accountants House. There are many types of accommodation available from 5-star to budget hostels. Luas, DART, and Dublin Bus transport is available across the city, however some examples of hotels (priced high:low) within walking distance of the venue include:
During June you can stay on the grounds of the Trinity College Dublin campus, extremely close to the meeting location, in student accomdation, for around €60 per night. See the college accommodation office for more details.
Other useful links:
Social Events:
Reception at Trinity Capital Hotel (June 11)
At 19:00 on June 11 there will be a light buffet dinner/reception at the Trinity Capital Hotel, a five-minute (400 meter) walk from the Workshop venue. Although attendance is free of charge, preregistration is required. The reception includes two drinks (soft drinks, beer, or wine) with a cash bar available for additional drinks.
Dinner at the Brazen Head Pub (June 12)
At 19:00 on June 12 there will be an informal dinner in a private room at the Brazen Head Pub. Founded in 1198 it is reported to be the oldest still-operating pub in Ireland. Attendees will be responsible for their own food and drink charges (a meal, not including drinks, should cost in the range of € 10–15).
For assistance with workshop logistics or technical issues, you can write to This email address is being protected from spambots. You need JavaScript enabled to view it. .
For questions about the program or the workshops in general, contact the co-chairs.
Deliverables
Workshop sessions and documents will be in English. After the event presentations, minutes and the workshop report will be made available to the public, linked from the project site.
Co-Chairs
This email address is being protected from spambots. You need JavaScript enabled to view it. (DERI)
This email address is being protected from spambots. You need JavaScript enabled to view it. (TCD)
This email address is being protected from spambots. You need JavaScript enabled to view it. (DFKI / W3C Fellow)
Local Organizer
This email address is being protected from spambots. You need JavaScript enabled to view it. (TCD)
Program Committee
Paul Buitelaar (Digital Enterprise Research Institute)
Nicoletta Calzolari (Consiglio Nazionale delle Ricerche, Italy)
Philipp Cimiano (University of Bielefeld)
David Clarke (Welocalize)
Alexander O'Connor (Trinity College Dublin)
David Filip (University of Limerick)
Ivan Herman (W3C)
Dominic Hugh Jones (Trinity College Dublin)
Richard Ishida (W3C)
Jirka Kosek (University of Economics Prague)
Dave Lewis (Trinity College Dublin)
Christian Lieske (SAP)
Arle Lommel (DFKI/GALA)
Andrea Marchetti (Consiglio Nazionale delle Ricerche, Italy)
Monica Monachini (Consiglio Nazionale delle Ricerche, Italy)
Jan Nelson (Microsoft)
Georg Rehm (DFKI)
Cristina Valdés Rodríguez (Telecable)
Felix Sasaki (DFKI / W3C Fellow)
Reinhard Schäler (University of Limerick)
Yves Savourel (Enlaso)
Jörg Schütz (Bioloom)
Tadej Štajner (Jozef Stefan Institute)
Luis Bellido Triana (Universidad Politécnica De Madrid)
For more information, contact This email address is being protected from spambots. You need JavaScript enabled to view it. .